The increasing trend of immigration and emigration has increased the need and necessity of attestation. Be it for sponsoring a visa or completing higher education abroad, attestation has become requisite. Attestation is a government authentication procedure that can't be delayed or ignored if a native is planning an international move. The United Arab Emirates is the latest attraction of expats. Better lifestyle, lucrative jobs, and tax-free salary are some of the highlights of Dubai.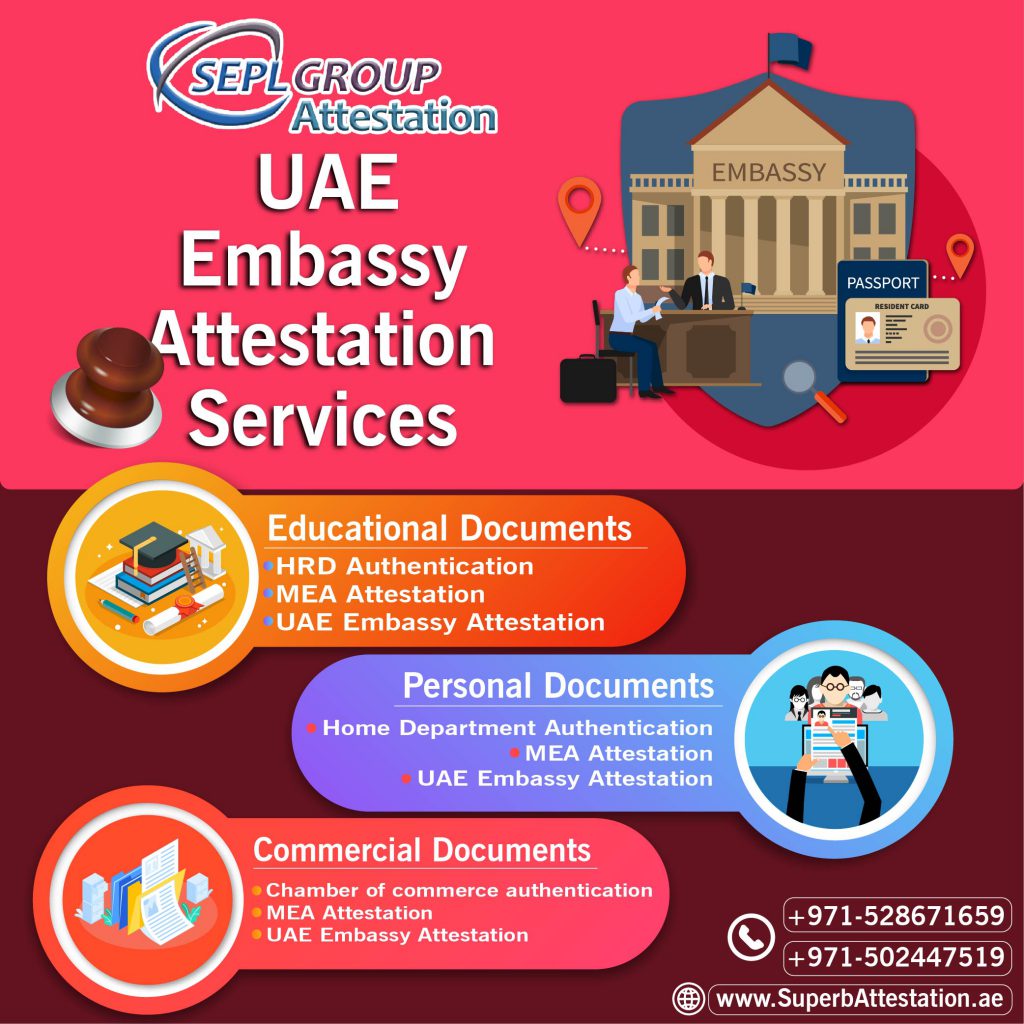 What is the Procedure of UAE Embassy Attestation?
The procedure of the UAE Embassy attestation is as follows:
State Attestation- Scrutinization and authentication of the presented documents at the state level are known as State Attestation. A document can only be validated by the concerned department of the issuing states. Human Resource Development (HRD), Home Department, and the Chamber of Commerce and the assigned authorities for validating educational, personal, and commercial documents respectively.

MEA Attestation- The Ministry of External Affairs (MEA) thereupon attest the Indian certificate. The MEA is the only government authority in India overseeing and completing this task. This procedure usually takes a half day. The document will be seized by the MEA if found forged.

UAE Embassy Attestation- Thirdly, the UAE Embassy attests the Indian document after complete verification. Once the UAE Embassy attestation is done, then only the certificate will be processed further for attestation and visa. 

MOFA Attestation- At last, the document will be attested by the Ministry of Foreign Affairs (MOFA) if they are being used in the UAE.

How long does the attestation procedure takes to complete?
The attestation procedure depends on several variables due to which time taken by documents varies. Some documents are easy to process while others are prolonged. For eg., educational document attestation takes much longer time than commercial document attestation. Embassies of certain countries take a longer time to verify and attest a certificate such as Angola Embassy and Venezuela Embassy. On the other hand, Qatar Embassy, Kuwait Embassy, and Bangladesh Embassy usually return a document in between 3 to 5 business days. There is no fix duration of how long this procedure can take. Although, this duration can be reduced by hiring an agency. There are numerous agents providing services regarding Certificate Attestation Services in Dubai.