Procedure to Attest Indian Documents in Dubai
Dubai is an ultra-modern city, full of excitement, and opportunities. This city is one of the top commercial centers in the world that attracts a lot of business administrators, students, and job seekers. The procedure to get into Dubai can be a bit hectic. Anyone who wishes to enter this country needs lots of proceedings which is difficult. Your Indian document attestation in Dubai is required which includes educational, personal, and commercial certificates. You need to get the documents legalized before applying for the visa.
All of your credentials are required to be attested necessarily which is the fundamental requirement to follow in Dubai. If an individual is seeking a job or higher education in Dubai, Degree Certificate Attestation is essential. It is compulsory to prove the Dubai officials that your Indian documents are legal and authentic.
How to Get Your Documents Attested?
Attesting your documents require a few particular steps to make your degree certificates genuine. Once, Embassy legalizes the documents, then the individual can apply for a visa that will help to enter into Dubai.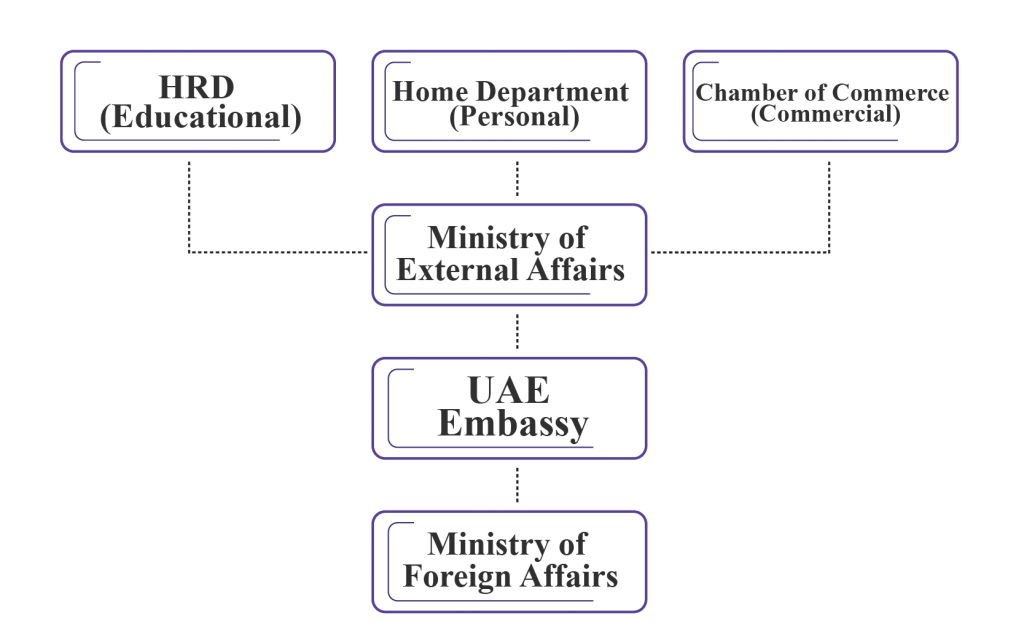 Before flying to Dubai, one should –
Get the certificates attested by the HRD (educational), Home Department (personal) and Chamber of Commerce (commercial) of your state. They provide a seal and signature that ensure the documents are legal.
Verify them with the Ministry of External Affairs of your country. Both original and copy of the documents are required.
Documents and its copy will again be verified by UAE Embassy or consulate.
The last step is to submit the documents and its copies to a genuine government area once you reach Dubai. Only then, the documents can be used anywhere in Dubai to get a job or college.
Not living in your country? Then you can –
Bring the documents to your country's Embassy and then MEA. Embassy attestation is necessary to get the certificates authenticated before entering Dubai.
If not, send the documents to the home country.
For this procedure, you need to get the documents verified by a Notary at the Dubai Court Notary Public. Take all original supporting documents along with a valid passport and an ID proof.
Note: The Courts of Dubai are open at AI Twar Centre and AI Barsha.
Later, the Ministry of Foreign Affairs will attest your documents. Here, you are required to pay the charges to get the attestation.
SEPL Attestation provides genuine, quick and reliable services in Dubai and help you to get your documents attested. Reach to SEPL Document Clearing LLC for all attestation related queries and get professional support and supervision at affordable rates.