Getting a job in Dubai is as easy as shelling peas if you know what you are looking for and apply according to your job description with the right job portal.
If the applicant applied for a job in Dubai with the required experience and expertise, a top-notch company would happily take them on board.
Almost 90% of the workforce in Dubai are migrants. The country has the healthiest economic system in the world. Do you know that of the 9.2 million population of Dubai, 7.8 million are migrants?
On top of this, 30% of the total workforce in the UAE (United Arab Emirates) are Indian expatriates.
So, why do so many Indians and other country citizens move to Dubai for work? You'll get the answer in this blog.
Here we have created a complete guide for you on where to apply to get a job in Dubai, the benefits of working in Dubai, 9 tips on how to prepare yourself to find a job in Dubai, and a list of job positions in high demand in Dubai.
Read More: New UAE Labour Law
How to Get a Job in Dubai?
There are two situations to work on to get a job in Dubai. The first is when you look for job options in Dubai from your native country & you are searching for ways to get a job in Dubai from India.
On the other hand, you are in Dubai on a tourist visa(visitor visa) and using the information and the secrets shared by the job experts to find a job in Dubai.
Read More: Dubai Visa on Arrival
Here are the most used ways that helped many people get a job in Dubai while sitting in their home country and roaming in Dubai on a travel visa.
1. Registering in iRecruitment, UAE Federal Government Job Portal, to apply for a job in the government sector according to your education level and experience.
2. Search for a job by registering yourself without paying any fees on government and private job portals.
Government Job Portals:
Federal Government job portal
Abu Dhabi Government job portal
Dubai Careers
Government of Ajman jobs- Kawader
RAK jobs
Fujairah Government jobs
Private Job Portals:
Bayt
NaukriGulf
MonsterGulf
Gulf News Careers
Laimoon
3. Arrive in Dubai with a 90 days Dubai visa and search for employment opportunities. Online job fairs are the best where you can communicate with recruiters and employers and educate yourself about the roles of the organizations and build a strong network.
Here are some most famous job fairs in the UAE.
eFair
Careers UAE
National Career Exhibition
4. Look for a job in Dubai through licensed recruitment agencies. You can find the licensed companies on the Ministry of Human Resource and Emiratisation.
5. You can directly apply to the organization where you want to work with or through its careers section on the website. Apart from that Federal and local government entities and Business directories of the UAE government have all the websites that announce job vacancies.
6. Create your professional account on social networking websites like Linkedin, Instagram, etc., and post content to define your work experience, education, etc. Social media is a portfolio to attract top recruiters and employers to get a job in Dubai or even attract business.
9 Tips to Prepare Yourself to Get a Job in Dubai
Share your updated CV with recruiters with detailed information about your education and previous work experiences.
Be attentive to the details shared by your recruiter or employer to get a job in Dubai.
Keep yourself motivated to be diligent even if you fail many interviews. Keep searching for a job and try to interact with expats working in Dubai. You can take help from the best recruitment agencies to know the requirements of the companies in Dubai.
Protect yourself from fraud and pay attention to micro details. Check the email ID from where you have received your job offer or confirmation, and include the name of the company that has hired you.
Learn some daily used words in Arabic to add a skill to your CV and to interact with locals.
Gather information on the new updates introduced in your industry. It is vital to stay updated about the trends following in your field in the present to generate satisfied ROI and customer-oriented services for your organization. ROI and customer convenience services are the two main things that all companies work for.
Prepare your educational documents with the required attestation to join your company in Dubai without hassle and delay.
Stay up-to-date with the region, law, and social and cultural system before moving from your country to Dubai.
You will get your work visa from your employer, but once you land in Dubai, you apply for a residence visa and work permit. For that, prepare documents, such as attested Police Clearance certificates (PCC), medical certificates, birth certificates, etc.
Benefits of Working in Dubai
It is always better to keep yourself inspired to do the things that will be helpful for your future self. Prior to digging deeper into the tips to prefer yourself to get a job in Dubai, see the advantages of getting a job in Dubai.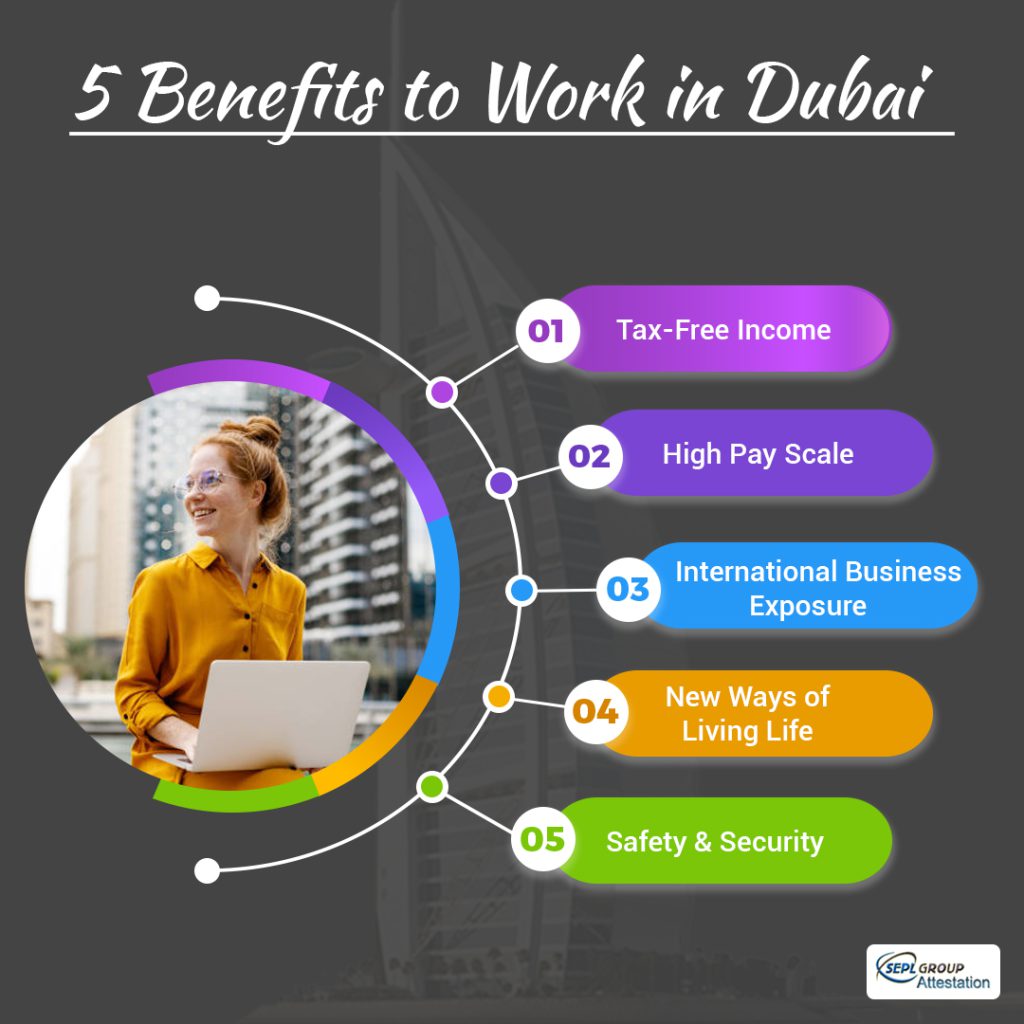 Tax-Free Income
Dubai is one of the emirates where you can earn a tax-free income. The best part of tax-free income is that it is also available for rental income. Tax-free income is an attractive incentive or a way to attract qualified and skilled people to work in Dubai.
Attractive Salaries and Benefits
Dubai is where the employees get monthly pay cheques with many benefits, like health insurance, annual vacations, airline tickets for employees' holidays in their home countries, housing allowances, flexible working hours, and education allowances.
It is one of the facilities provided by the UAE government to attract the highly educated and skillful in Dubai and retain them.
Exposure to International Business and Market
While working in Dubai, you can explore real estate, finance, oil and gas, hospitality, and marketing sectors. Besides the work, you can explore global cuisines, traditions, leisure, and entertainment.
New Ways to Live a Quality Life
Your standard of living changes when you move out of your comfort zone and start living in a new country. By getting international exposure, we explore different cultures and learn more unique ways to live a peaceful, healthy, and wealthy life.
Safety and Security
The strict laws of Dubai have proved that it is the safest country in the world for solo female travelers. Dubai is a safe country where you can walk on the streets anytime without worrying about being robbed or mugged. Dubai is where the crime rate is so low that it has no existence.
Most in Demand Jobs in Dubai
Accounting and Finance
Management Accountants
Chief Financial Officers
Financial Analysts
Head of Internal Audit
Treasury Director
Risk and Security Management
Risk Managers
Security Analysts
Cyber Security Architects
Digitalization
Developers (front-end, full-stack)
Cyber Security Experts
Cloud Engineers
IT Project Management
Artificial Intelligence
Recruitment and HR
HR Managers
HR Business Partners
Talent Acquisition Specialists
Legal Sector
Legal Counsel
Paralegal
Legal Assistant
Engineers
Aerospace Engineering
Chemical Engineering
Electronics Engineering
Mechanical Engineering
Petroleum Engineering
Data-Entry Specialists and Admin Assistant
Marketing
Traditional Marketer
Advertising Specialist
PR Specialist
Marketing Managers
Marketing Specialists
Digital Marketing Managers
Digital Marketing Specialists
Content Marketing Managers
Content Marketing Executives
Content Marketing Specialists
SEO Managers
SEO Executives
SEO Specialists
Social Media Managers
Social Media Specialists
Doctors and nurses
Teachers
Tourism and Hospitality Professionals
Tour Guides
Hotel and Restaurant Managers
Restaurateurs
Chefs
Cleaning and Housekeeping staff
Retails Management
Conclusion
With the correct information and trustful resources, getting a job in Dubai is a task you can accomplish easily.
Feed yourself with information related to the new trends, business news, skills, education, and experience that might help you secure a job in Dubai from your home country or anywhere else.
Contact MOFA-authorized attestation agency SEPL in Dubai for document attestation services.