Marriage certificate attestation is a four-step procedure
Home Department Authentication– All Indian personal documents, including marriage certificates, are authenticated by the Home Department of the respective state.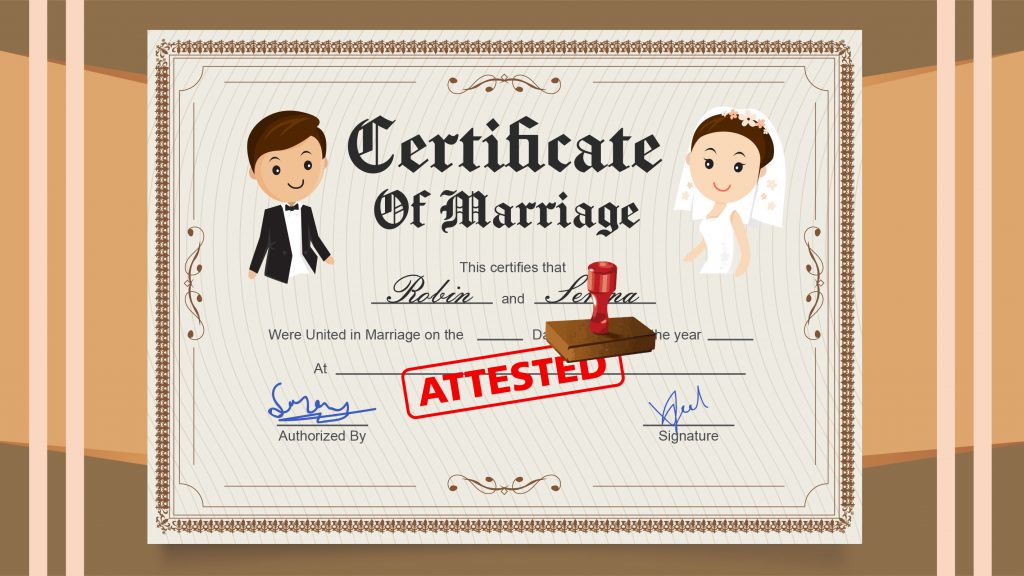 MEA Attestation– Upon State authentication, the certificate will be attested by the Ministry of External Affairs, the only authorized body in India attesting all Indian-originated documents.
UAE Embassy Attestation– Thirdly, the presented document will be attested by the UAE Embassy in India. UAE Embassy attestation is the last step of Indian document attestation in India.
MOFA Attestation– Lastly, the documents will be sent back to Dubai for MOFA attestation. The Ministry of Foreign Affairs is a government department of the UAE overlooking immigration and emigration related issues. After MOFA attestation, the marriage certificate becomes legally accepted in Dubai.
What are the benefits of marriage certificate attestation? 
Are you planning on moving your better half along with you to a new country? If yes, then eventually you will require marriage certificate attestation Dubai. Gulf countries like the United Arab Emirates impose strict regulations regarding married couples, and sexual relationships and unmarried couples cohabiting is illegal here. So, if you are sponsoring your spouse visa for Dubai, then firstly authenticate all the documents thoroughly from the concerned government department of your native country. Since the whole attestation procedure is complicated, you might want to hand over your documents to an expert and experienced authority. Attestation allows the easy processing of your spouse visa and proves that your certificates are valid.     

How to get documents attested easily in Dubai?
The easiest and uncomplicated way of getting your documents attested in Dubai is by seeking professional assistance. There are plenty of companies rendering assistance for visa services and certificate attestation in Dubai. Do a background check of the company before submitting your documents. They will process your documents on your behalf, and you will receive attested certificates without wasting much money and time. Attestation is an intricate procedure, and a small mistake can end up rejecting your visa request. Hence, the cheapest and most reasonable method of document attestation from Dubai is via hiring a professional having expertise in this area.